Also for mountain biking as well as for climbing, trekking and ski, have been introduced systems for evaluating the technical difficulties of the trails. An evaluation of this type, as objective as possible, is important as it allows to choose the trails that best matched the rider skills, thus allowing a satisfying experience without incurring nasty surprises.
These classification systems only measure the technical difficulty by taking into account some features of the trail such as width, type of surface, average slope, maximum slope, type of natural or artificial obstacles, radius of bends, driving skills required. Other types of parameters are not taken into consideration such as those relating to the climate (rain, wind, snow, visibility …) or to physical effort.
In the following paragraphs we will show two classification systems: the IMBA Trail Difficulty Rating System, and the Singletrail-Skala.
IMBA Trail Difficulty Rating System
Maybe this is the most used system in bike parks and adopted by TrailForks.com. It is derived from the one for the classification of ski runs and from this inherits the classification based on symbols and colors. It uses a scale of 5 values ​​even if the first one is used to mark connecting trails. The description below is taken from the IMBA website.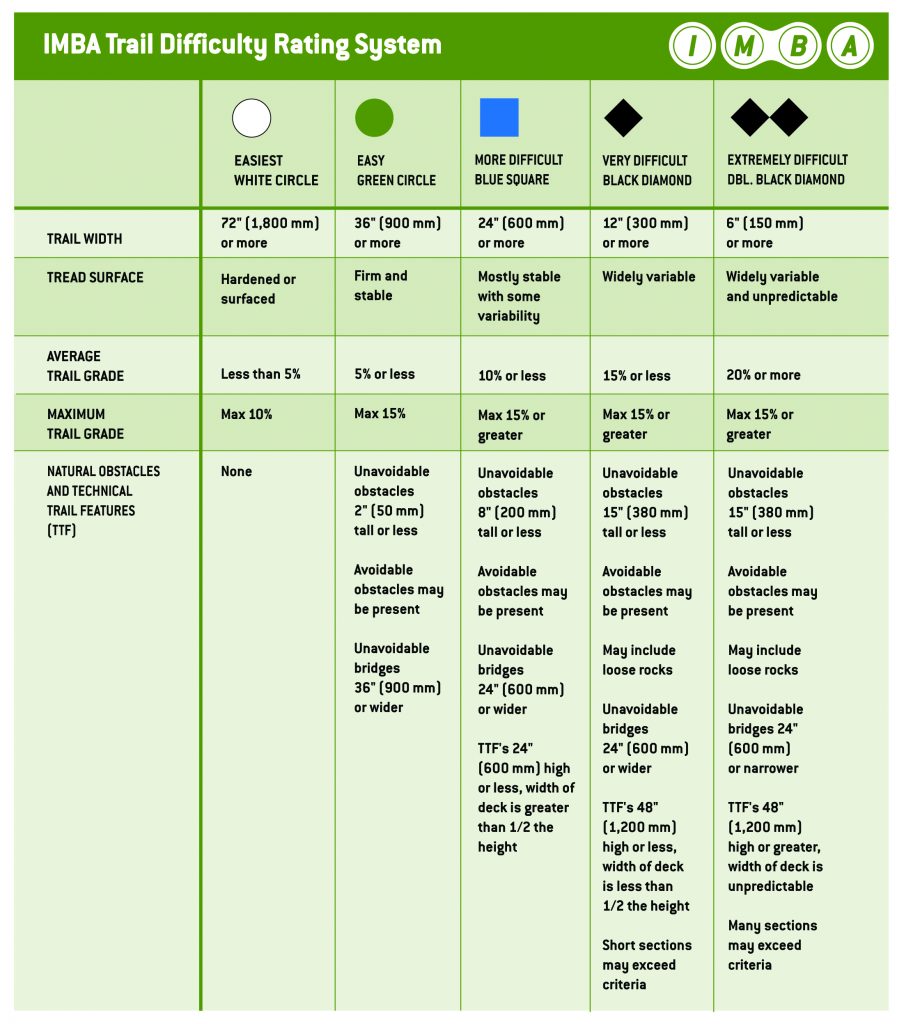 Singletrail Skala
This is important because used by OpenStreetMap.org. The values ​​are 6 and range from S0 to S5. On the site singletrail-skala.de there are photographic examples and in the download area a document, which contains a detailed description of the system. The following table summarizes the main features of the classification.

Clarifications
It is very unlikely that a trail falls into a category with respect to all the parameters taken into consideration. For example, a trail could fall into the IMBA blue square category for three parameters, in the green circle category for a parameter and in the black diamond category for a last parameter. In such a case, two different strategies can be adopted to provide an overall assessment: evaluate the trail using the maximum degree of difficulty detected, or evaluate the trail using the maximum grade found on most of the route. The final decision is up to those who draw up the evaluation, who can use subjective criteria acquired with experience. Going back to our example, if the segment evaluated black diamond is short then the trail can be assessed as a blue square; vice-versa, in the case in which the black diamond sections, even if few, are considered dangerous it can be assigned to the trail the black diamond degree.
Finally, as mentioned above, the degree of difficulty is assigned in the best weather conditions so we must take into account that in adverse conditions (wet, poor lighting, strong wind, too dry terrain, …) the difficulty of a trail could increase considerably.